ENZOANI REAL BRIDE: ROBYN & JAMIE
2018-07-05

09 Jan 2018
Childhood Sweethearts Become Lifetime Loves
Childhood sweethearts, Robyn and Jamie first met when they were 13 years old...yet it was hardly love at first sight. But as time went on, the two realized their affection for each other, even enduring long distance for a love they knew was completely worth it. Below, Robyn tells us about how she and Jamie went from friends to lovers, about her wedding day advice, and about how she finally found "The One" in her custom, off-the-shoulder Juri gown from the Blue by Enzoani collection!
THE DRESS
Despite being quite a "girlie girl," it was at my first dress fitting that I discovered I was not one of those typical girls who had been planning their wedding day since they were little. Yes, I had daydreamed of having a wedding day, but I had never really put that much thought into its style or the type of dress I'd wear. I have always had a thing for backless dresses or dresses with incredible details on the back, but that was as far as my thoughts on wedding dresses had gone!
---
---
I was fully open to suggestions and was up for trying just about any style! I was in awe of the dresses and appreciated the details and work that goes into them, I loved them all. However, I just didn't feel that any were right, I couldn't imagine myself wearing any of them on my wedding day and I certainly hadn't had "that moment" or found "the one."
I started to feel the timeline pressure and started to become worried that I just wasn't going to find a dress I loved enough. In total, I visited 7 shops and can't even remember the total number of dresses I had tried. All that I had learnt was that I loved the off-the-shoulder look, but apart from that, I had no idea on the style I wanted. I also learnt that I was lucky, and lots of different styles of dresses suited me, but no matter how many compliments my bridesmaids and mum would make, I just didn't feel comfortable in them and didn't find one I wanted to commit to, let alone agree to the price tag of! I also discovered that different styles can make you feel different. It's hard to explain but some made me feel like a princess, and some were so sophisticated and elegant, but I just didn't feel like me! I even paid the deposit on one dress (the polar opposite to my dress in the end). I went back to Krystle Brides one last time, just to make sure there was no other dress out there for me!
---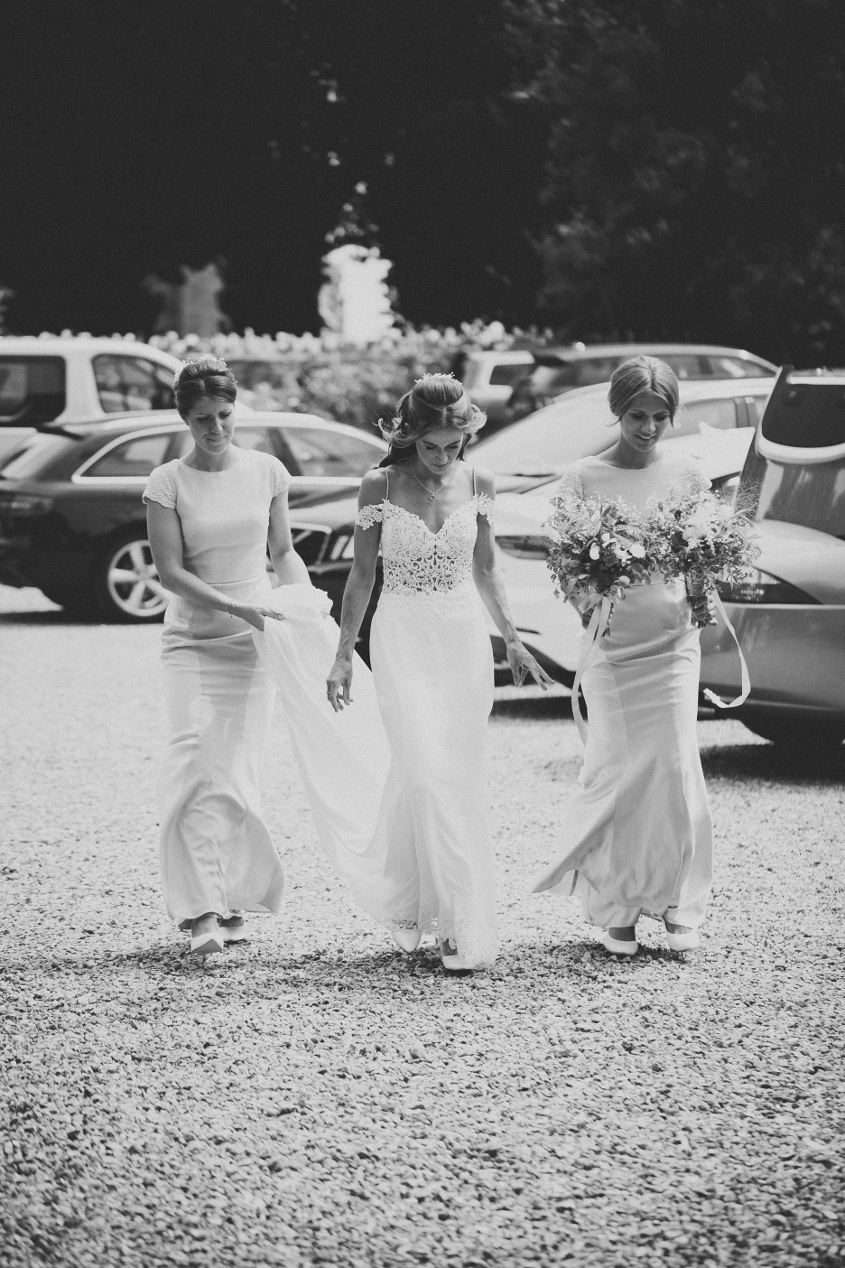 ---
It was a typical busy Saturday in the world of wedding dress shops and I remember having to wait for the dressing room for my appointment to become available. In the reception area was a dress hanging in a clear cover (the type you get your dry cleaning returned in). I thought it was someone's dress that they were collecting or getting alterations on. It was the sort of shape I had thought I had wanted from the very beginning, but the top had a unique colour to it where the skin-toned cups showed through the lace and I remember thinking that could be quite a nice dress if the colour was changed and the top added to, perhaps. Anyway, the room became available and I got my open-minded head back on and hunted through the rails. Again I went for the fuller skirts and princess styled dresses comparing them to the dress I had put a deposit down on. I then explained to Krystle the dilemma I faced and tried to explain the type of dress I had imagined, but that none of them had suited me. She disappeared off and came back with a dress behind her back and just said, bear with me, ignore the colour of the cups at the top and try this one on (the Juri). I put the dress on and the issue of the skin tone colour disappeared. I didn't notice it at all, but what I noticed was how I felt. The material, the details, the cut and OHH, the BACK!
---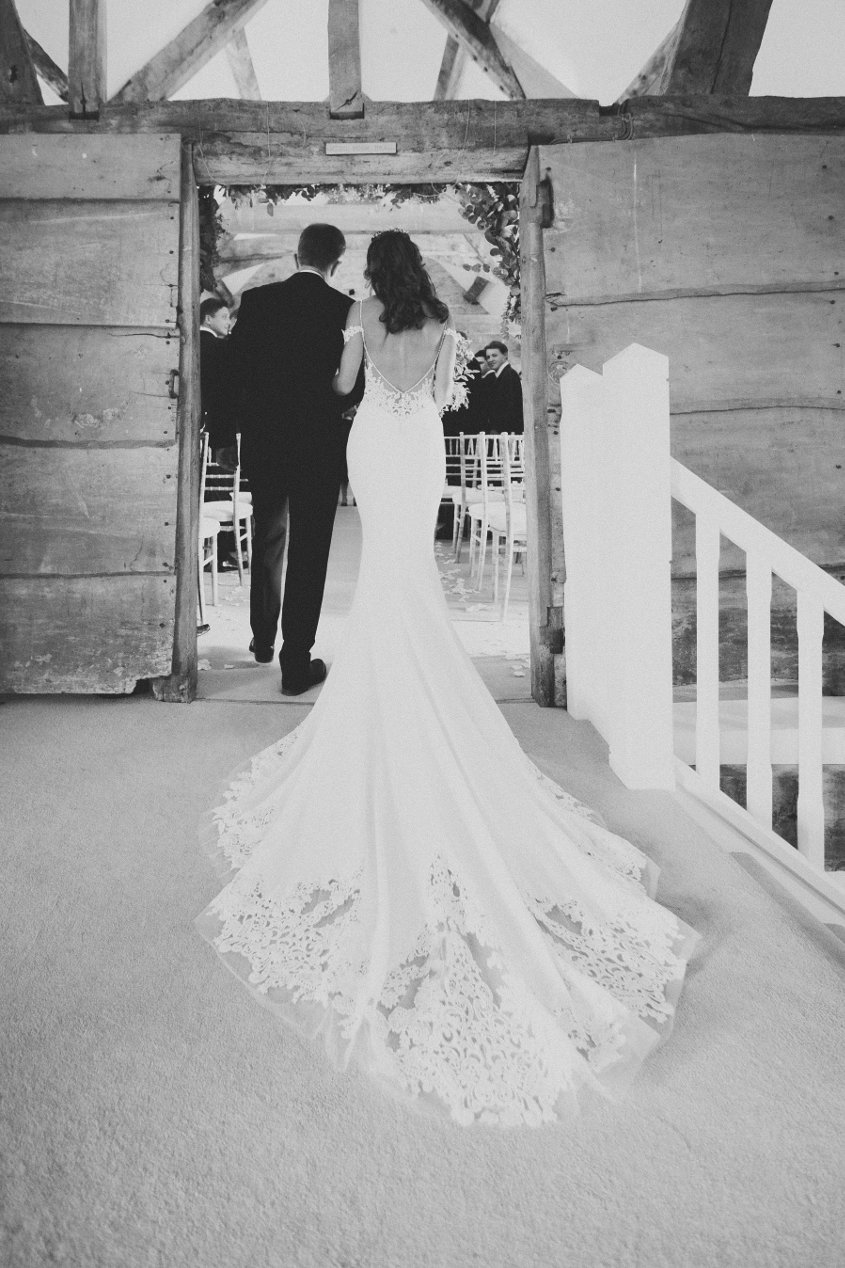 ---
This dress had thrown a massive spanner in the works! My mum cried and I cried, because of the dress, but also because of the slight dilemma I now faced! I had paid a deposit on another dress! Krystle even went and got the other girls who work in the shop to see the dress, they all loved it and couldn't believe how different it looked on! I had a walk around in the dress and didn't want to take it off. There was another bride-to-be in the fitting room next door and I overheard her saying that she wanted to try my dress on. I immediately (jokingly) said no! THAT was the moment I knew! I knew this was the dress for me, more than the one I had paid the deposit on.
Luckily I had a 7 day cooling off period and the Enzoani gown was a new arrival in store, so I had time to go away and think. It's all I thought about for the next few days; I couldn't sleep, I just kept going back and forth thinking about the two dresses. They were polar opposites! The one concern I had was that the second dress didn't have off-the-shoulder straps, the one part I had thought I was set on and knew I wanted!
---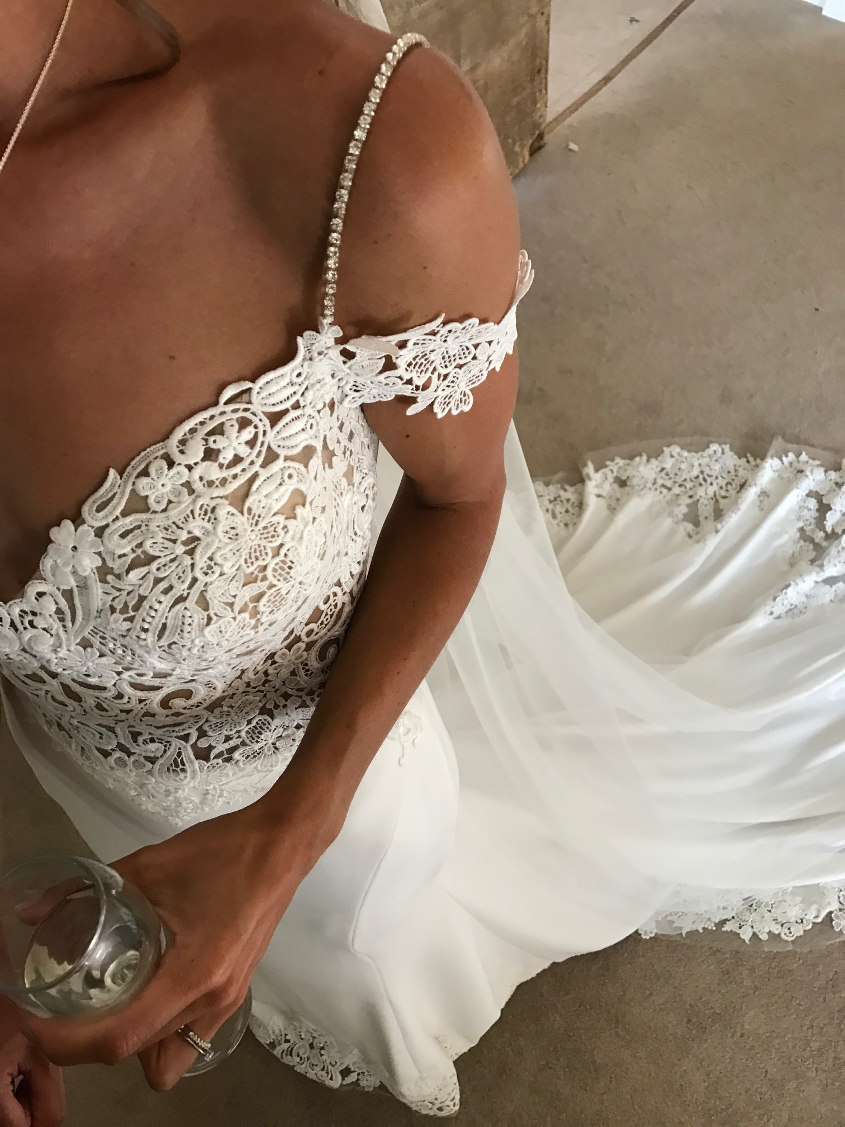 ---
I thought about the dress and had the idea of adding off-the-shoulder straps to it, not even as straps that would hold it up but just there for the detail I knew I loved. If that was possible, then this dress was perfect. A quick email to the designers was made, and the response was just perfect, they even sent photos of the extra material/lace that was available.
THE LOVE STORY
Us - childhood sweethearts, no way! Do they even exist?! Well, apparently they do! I have known my now husband since I was 13! This even sounds crazy as I'm writing, but it's true, we were at school together from the ages of 13 right through to 18! But fear not, it's not a totally drama-free fairy tale sweetheart story where it was "love at first sight" and we've been together since the day we met, happily ever after!

---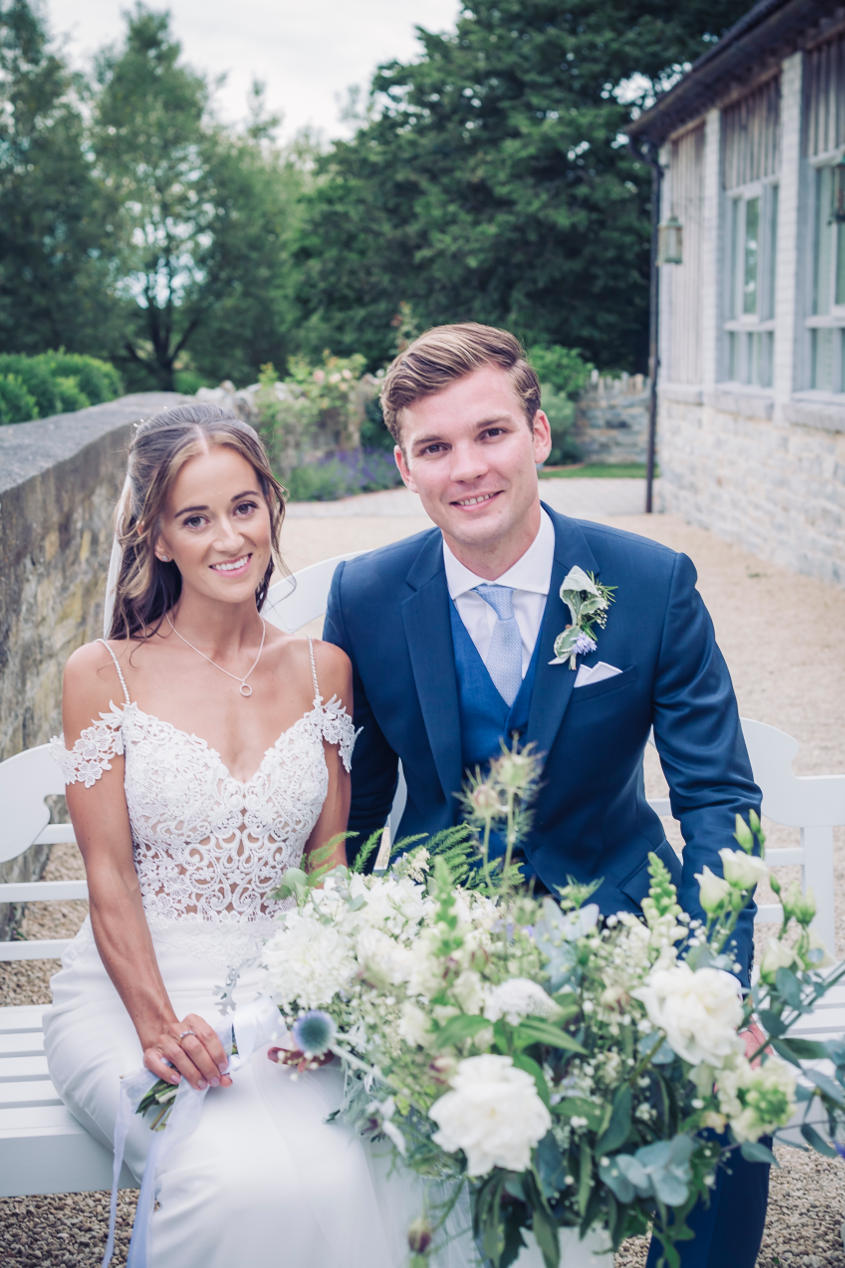 ---
We were boyfriend and girlfriend aged 15 with a relationship that lasted 9 months - now I remember that being a long time back then! However in the final week of the summer holidays, right before my "Sweet 16" birthday, I was dumped! As I was heartbroken and totally envious of any new girlfriend(s) for the remaining school year, we didn't talk. In fact, believing we both disliked each other, we hardly spoke! We had very similar friendship circles and our paths crossed daily at school, yet it was only ever a half smile or "hi" that was exchanged between us. Fast forward a gap year and 1 year at university each, in the summer of 2012 out of the blue, we arranged to meet up. I planned the activity -- the deal was he had to bring the family dog! (great icebreaker and winning topic of conversation and/or distraction!)

---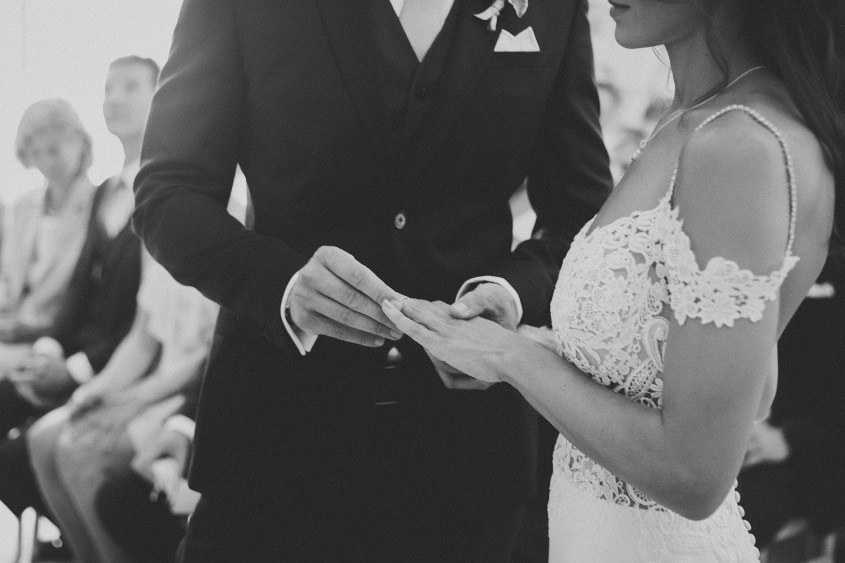 ---
We had a great catch-up on a long dog walk followed by a pub lunch. Needless to say, we greatly enjoyed each other's company and were already planning the next meetups; we arranged to go the coast for a night's camping and beach day! At no point did we refer to this as a date, and naive little me pitched up with two sleeping bags and a two-person tent! We pitched my tent (pink, yellow and purple love hearts) and he took me for dinner at a lovely pub overlooking the sea. We chatted, laughed a lot and wait for it, star gazed with our pillows out of the tent - shooting stars and all!! Again, a story that just doesn't seem real, it's too perfect!

---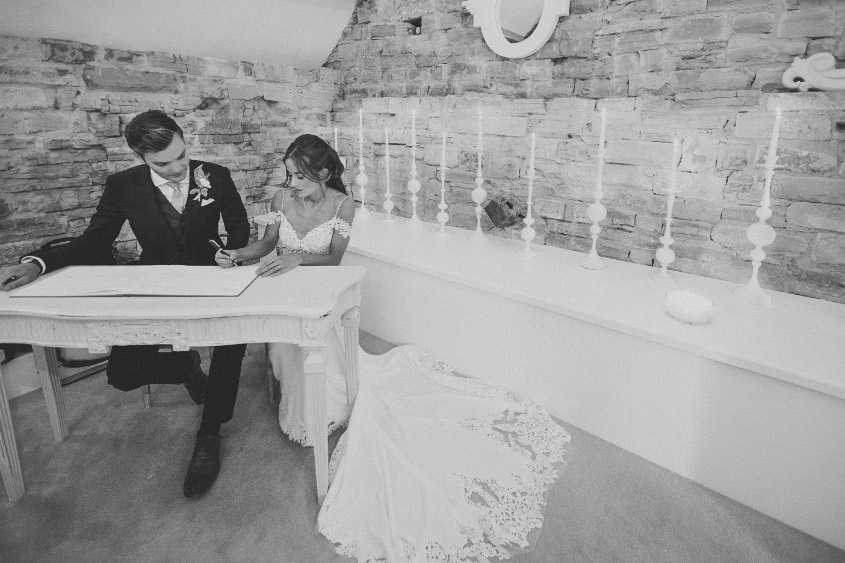 ---
The summer holidays came to an end, and we both went back to our separate universities at opposite ends of the country. It wasn't easy starting a somewhat new relationship over long distance, but somehow we made it work. We planned ahead and always appreciated the weekends we spent together, but the long distance thing took its toll, as did the cost of the train rides in between us! However, I am a firm believer in fate and what will be, will be! Clearly, we were meant to be. In 2016, I said "yes," and 2017, "I do."

---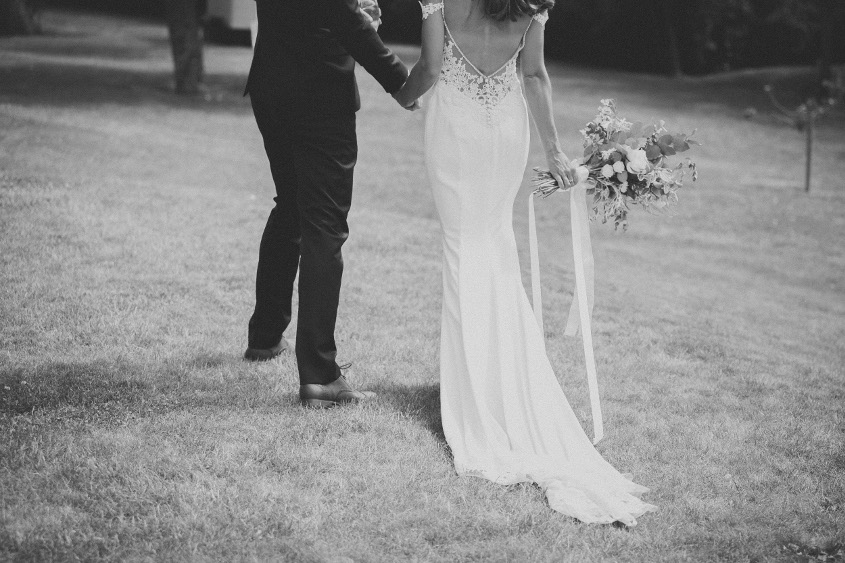 ---
THE WEDDING DAY
My favorite wedding day memory was watching our guests find their seats and favours for the meal. Inside the barn was a mezzanine that had an open window/balcony overlooking the reception area. I was upstairs with my husband and noticed guests coming in to find their seats. I peered over the balcony fully expecting to be spotted by guests as many were looking up at the beautiful fairy light chandelier and generally around at the barn and decorations. As soon as they did or if they had, I was planning on stepping away and hiding from view! Only one of the users looked up at me and I immediately looked away so as to not make eye contact (I think he got the hint that I didn't want to be spotted!).
---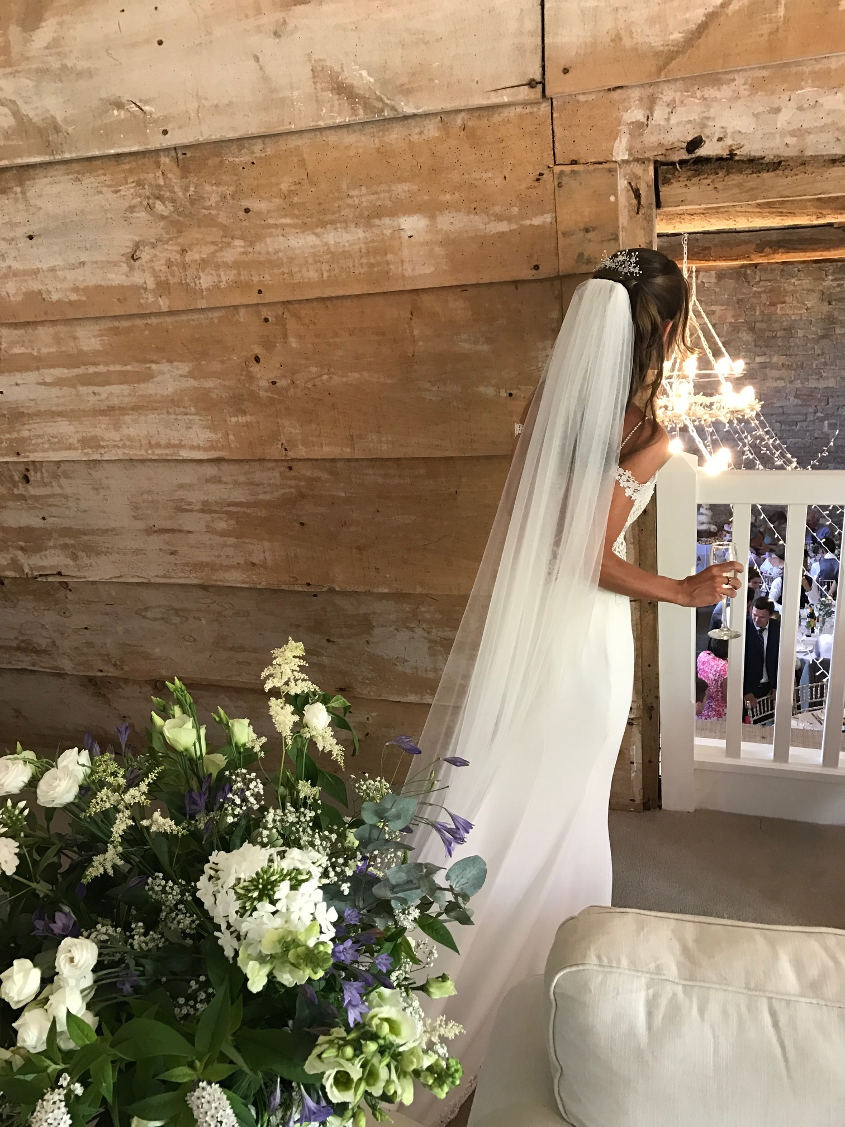 ---
It was an amazing moment just to be stood up there looking down at all of our friends and family. I remember thinking this is amazing, we have incredible friends and family here around us, how lucky are we! This was one of those moments where I thought to myself wow, this is a moment I am going to really take in and never forget!
MY ADVICE...
Whether it's choosing a dress, finalising the seating plan or running through the to-do list, take a step back, take in the moment and remember why you are doing this and enjoy it! There is so much pressure (be it time, money, pleasing others, appearance or expectations). Always focus on why and what you want for your day and don't lose that focus, go with your gut and try not to let the pressures get to you or influence your decisions. So many people ask how the wedding planning is going and there is this perception of it being a "stressful process," but it's a wedding! One of the best days of your life, a celebration with friends and family. With so many stresses in everyday life, please don't let your wedding be one of those! Life is too short!
---