ENZOANI REAL BRIDE: GEORGIA & JOEL
2018-07-03

17 Apr 2018

For Georgia and Joel, a seven-year romance built a strong and solid foundation, with the couple experiencing the joys and challenges of settling into their first home, raising their first fur babies, and purchasing their first car together all before their journey to the altar. It all made for the perfect proposal leading to an equally wonderful wedding day celebrated with their loved ones at the beautiful Zonzo Estate winery in Australia. Take a peek below at the gorgeous photos by Michael Briggs, video by Apertura Studios, and see how Georgia finally found "The One" in her Enzoani Larissa gown after trying dozens of options!
---
THE DRESS
I think I tried on just about every style of dress there is - princess, mermaid, A-line, strapless, long sleeves, cap sleeves - you name it, I tried it on. I was up to dress number 70, at least! I was so confused, but I knew I wanted something timeless but memorable. I never wanted a full lace dress but, of course, I tried them on, and it always felt it made me feel more 'bridal.' I also found it quite hard to find 'plainer' dresses as lace is definitely very popular.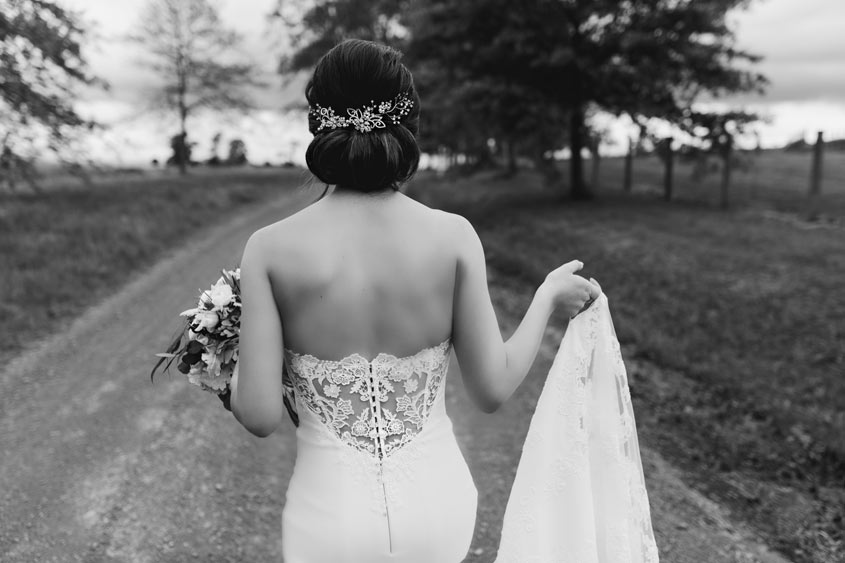 ---
So many times, I liked a dress and kept it in the dressing room with me while I tried on others, went back to it at the end, and often felt a bit underwhelmed by it the second time. I did start to worry that I would never find a dress that I'd love every time I put it on. When I saw the Larissa dress for the first time, I was immediately drawn to it. It was the first dress that took my breath away (the first, second time, and every time after that!) The simplicity of the front will be forever timeless, but the lace cut-out back and train gave me that lacy, bridal feel. I couldn't have imagined a more perfect dress for me!
---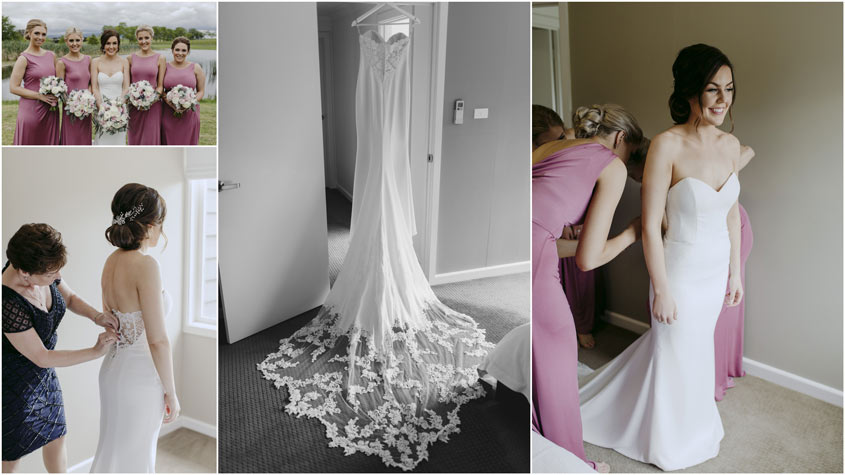 ---
THE LOVE STORY
Joel and I met in May 2010 when we both joined the Royal Australian Navy. We were in recruit school together for 3 months. I had joined as part of my gap year and Joel had joined as a Marine Technician. We originally started talking because we were from towns only an hour from each other, where others were from all around Australia. We were not allowed to date during recruit school, but pretty much as soon as we graduated in August the same year, we became 'official.' We used some money we had saved to go on our first holiday to Queensland, and by the end of December, we were living together in Melbourne. Joel had left his role as it was not for him, and I left in January to start university.
---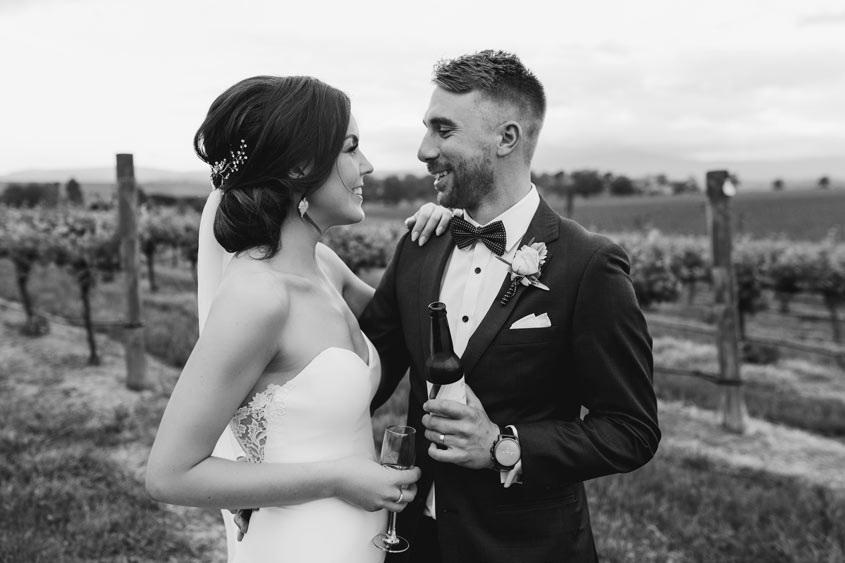 ---
In 2011, Joel started an apprenticeship while I studied a 4-year course at university and worked casually in hospitality. We just managed to scrape by most weeks, but we always managed to find a way! We have moved house 5 times in 6 years, slowly getting bigger. Our family also grew with our first fur baby, Ralph, in March 2014, followed by our second fur baby, Bailey, in August the same year. We also purchased our first car together in September that year and took it on our second holiday together which was in Tasmania in November to celebrate me graduating university.
In January 2015, I started full-time work and we started saving money. By July 2015, we had purchased a block of land and started building our house. We moved in to our very own home in February 2016.
---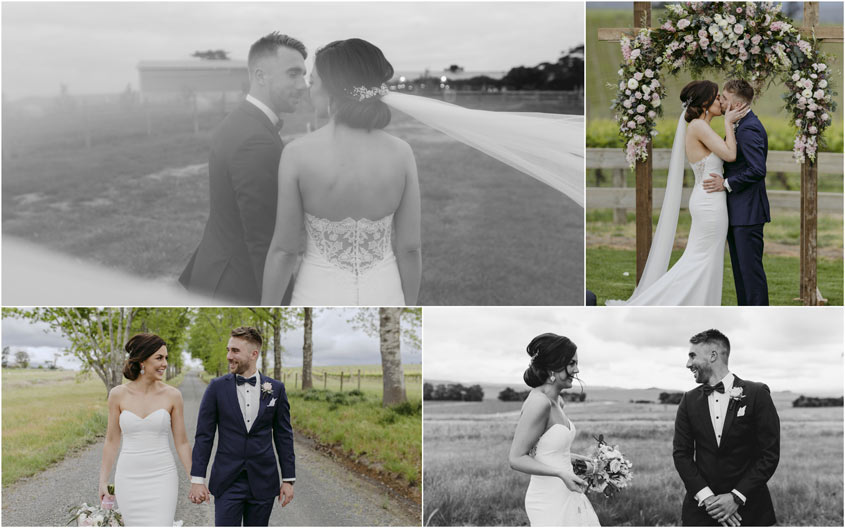 ---
In March 2016, Joel called me while I was at work to tell me our dogs had chewed our brand new deck and that he'd show me that night. When I was on my way home, I called him to ask him to put some water on the stove for the pasta I had planned for dinner. When I got home, all the blinds out to the deck were closed and Joel was dressed up – but the first thing I said was, "You didn't turn the water on?" He brought me over to the deck and opened the blinds, and there were fairy lights and a sign reading, "Will you marry Dad?" Our two dogs were sitting underneath the sign with bow ties on. It was so perfect, so us, and so unexpected! We went out for dinner at a local restaurant which is why he hadn't started dinner! We were engaged for about 18 months and were married after being together for a bit over 7 years.
---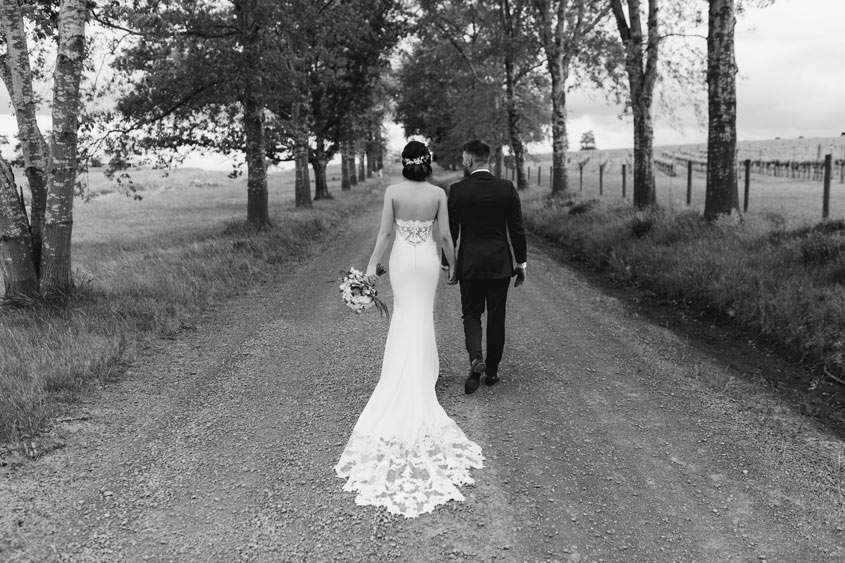 ---
We actually found the whole planning experience a lot of fun! The hardest thing was sticking to a budget!We booked the biggest things almost straight away and then worked out the finer details as we went.I am not one of those girls who has had her dream wedding planned since she was a little girl (although that would have been helpful!), so I really turned to Joel a lot to see what he liked and thought. We were so, so, so happy with how our day turned out, it was beyond perfect and would not have had it any other way.
---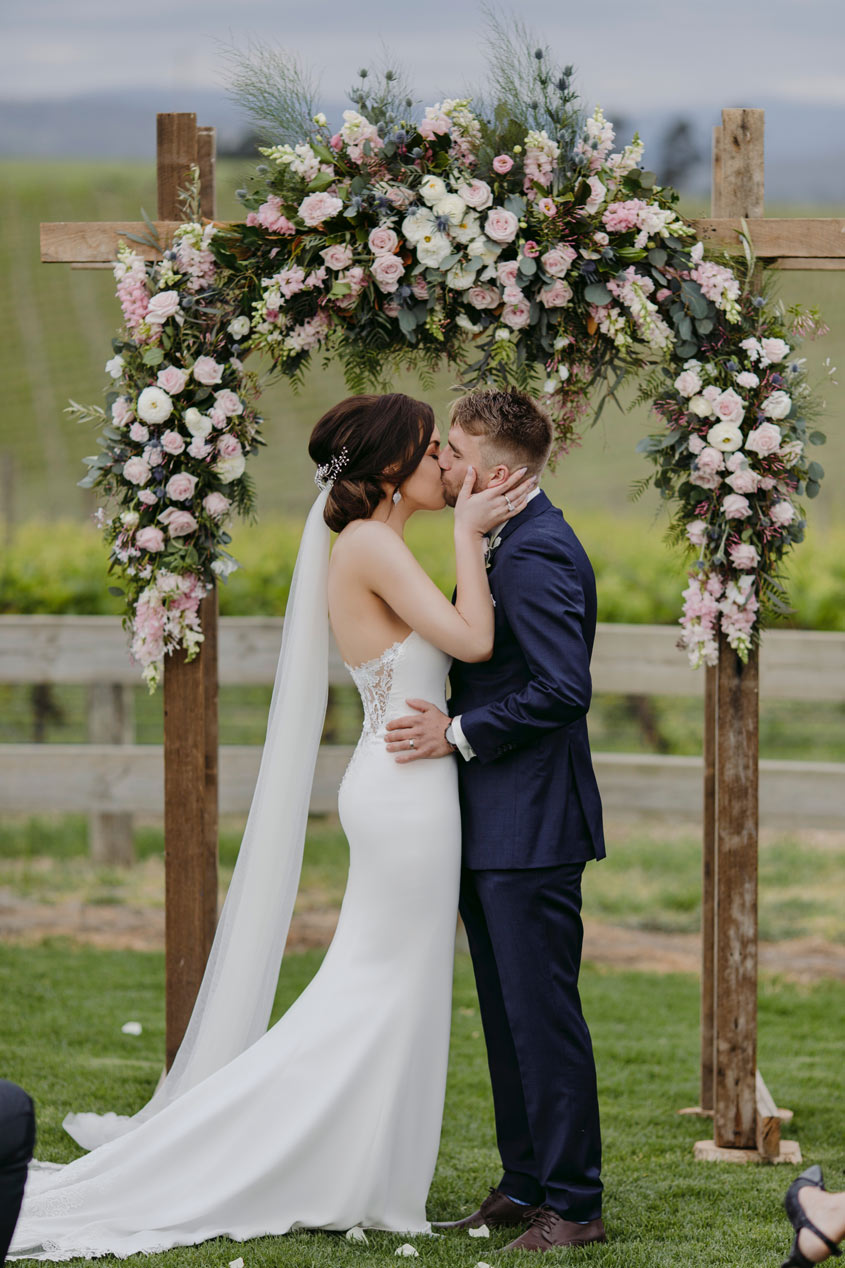 ---
THE WEDDING DAY
There were definitely no 1, 2 or 20 favourite moments I could choose! The whole day was so amazing.
I think the 4 moments that will stay with me forever are:
1. My husband (obviously!). Seeing Joel during our 'first look' and being able to spend some time together and with our bridal party before the ceremony was one of the best choices we made. I'd do it again and again, it was such a fun, emotional and special moment being able to see each other with it just being the two of us. It definitely did not take away from the emotion of walking down the aisle towards him.  
---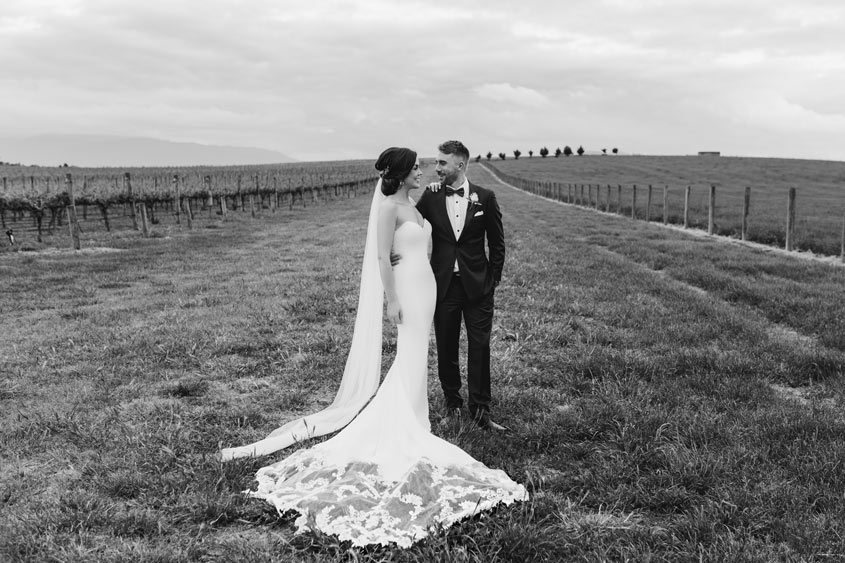 ---
2. My family. My dad seeing me in my dress for the first time was the first time I cried that morning. I have always been a daddy's girl and I was so honoured to have him walk me down the aisle. My mum has always been my number one supporter and shoulder to lean on and I am forever grateful for her. My little sister was my maid of honour and my brother was one of Joel's groomsmen. I was so proud to have them standing by our sides.
---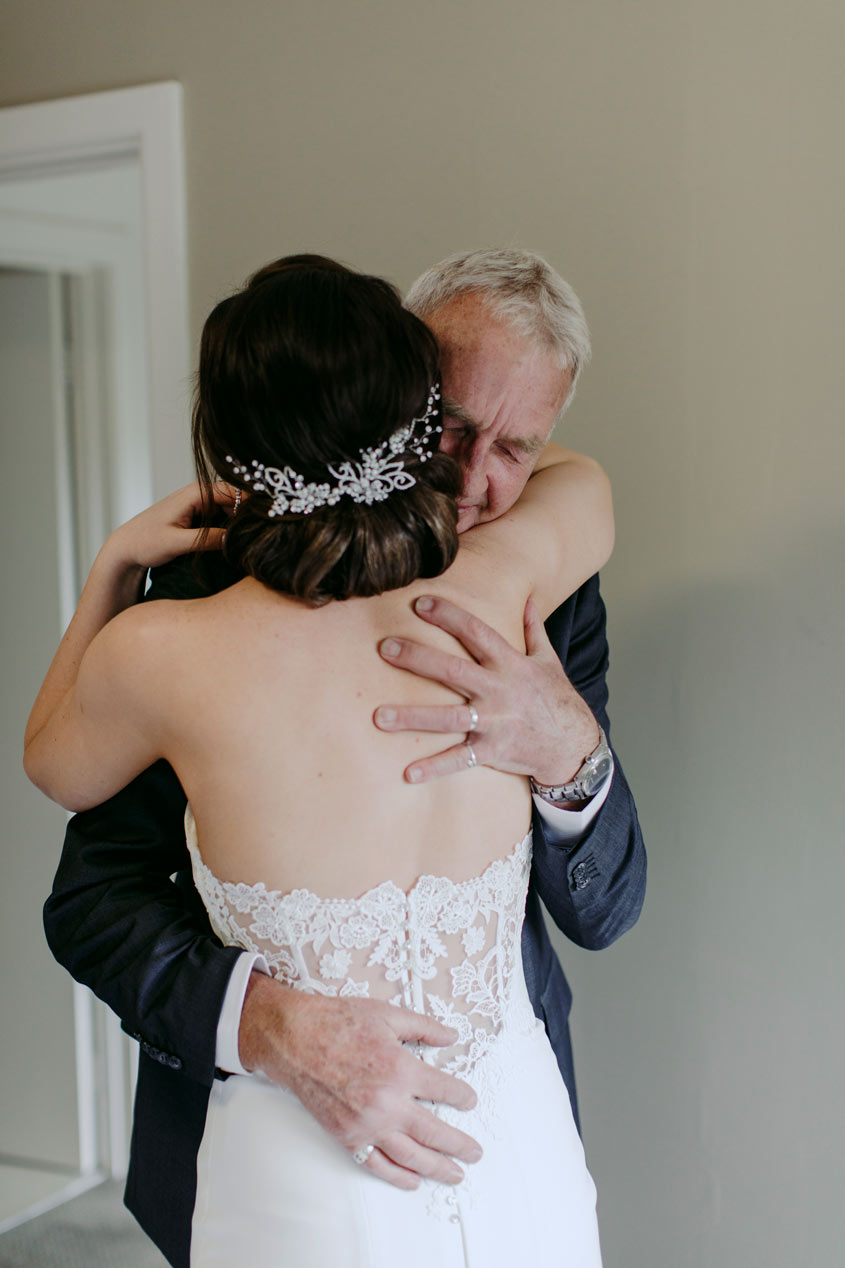 ---
3. The ceremony. I loved looking out to the guests and seeing familiar faces smiling back at us wherever we looked. We also had quite a relaxed ceremony where we laughed and cried with everyone, it was amazing.
4. The speeches. I don't think I have ever laughed and cried so much in such a short period! They were so beautiful and emotional!
---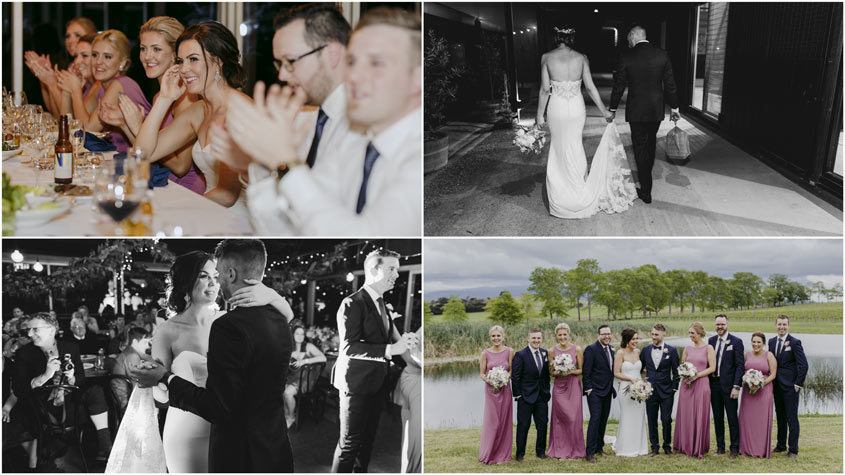 ---
MY ADVICE...
Do whatever feels right for you and your soon-to-be husband/wife.
We did a 'first look' because we have never been a 'traditional' couple and knew seeing each other would help calm any nerves we had. It also allowed us to spend time with our guests between the ceremony and reception rather than running off to get photos!
---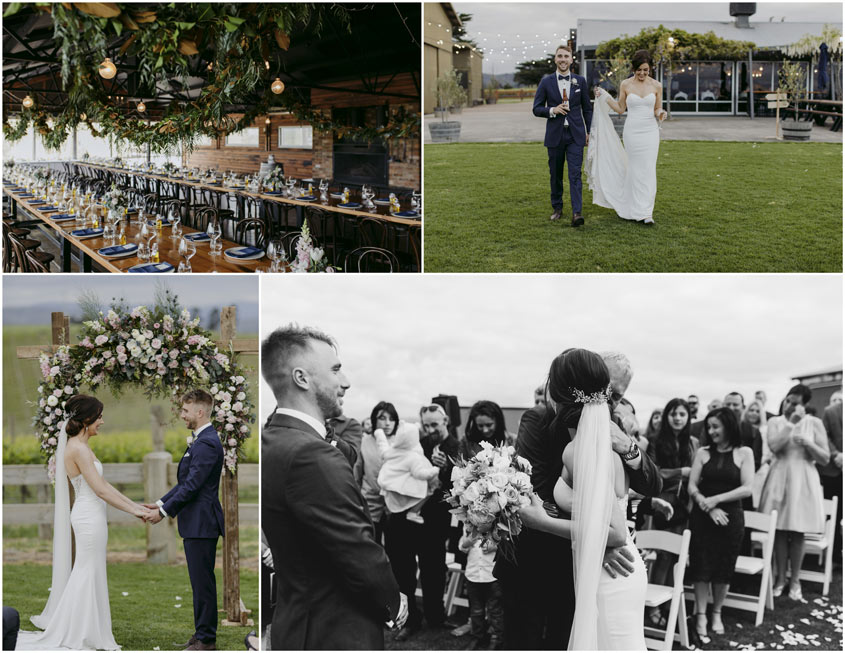 ---
If it's your thing, do some DIY.It can not only be fun, but it'll save you some money and your guests will appreciate it. Joel and I LOVE donuts, and we always wanted a donut wall but found they were so expensive to hire. So we went down to our local hardware store and bought everything we needed for a fraction of the price and actually really enjoyed seeing it come together.
---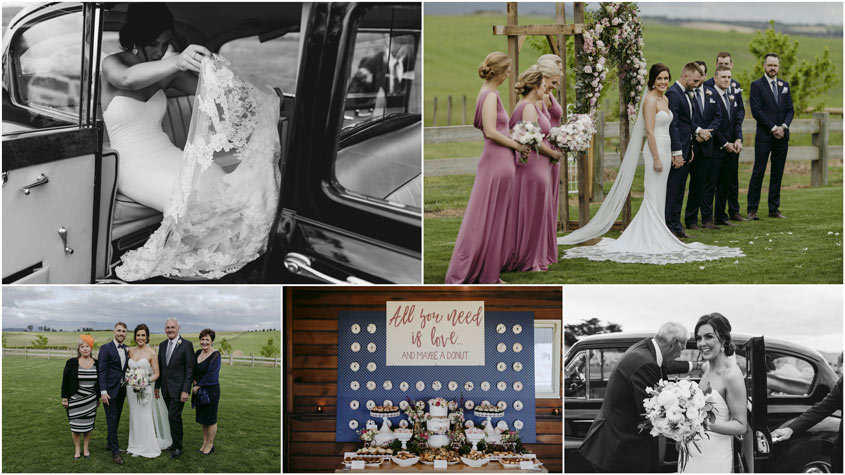 ---
Research, research, research! Whether it's your venue, vendors or the little details, do some research before you start going out and purchasing or putting deposits down. You'll save so much time and won't be left wondering 'what-if?' Although, I think this doesn't stand true for your dress! Of course, have a look and see what you think you'll like,but don't narrow down what you're willing to try on. You'll never know until it's on your body!
---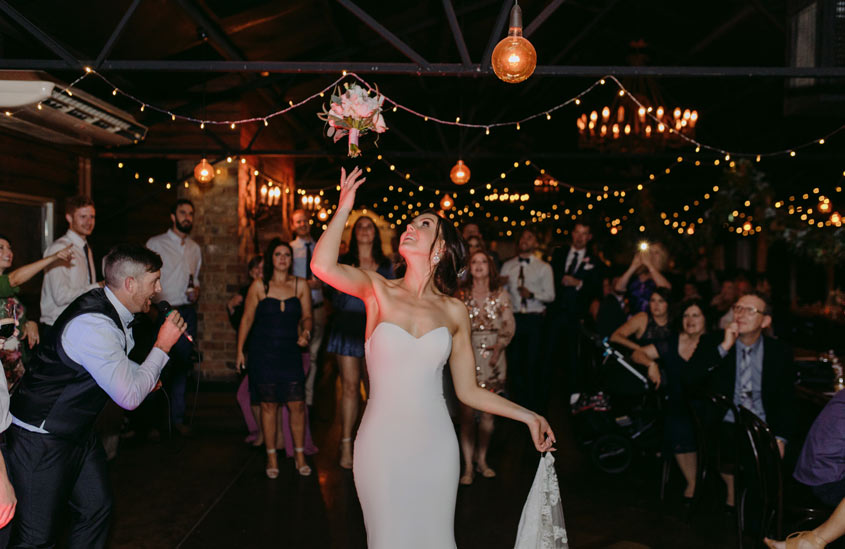 ---
Trust your vendors, they do what they do for a living and if you have chosen wisely, they know exactly what they're doing! It will save you so much stress and time knowing they have it all under control.
And finally, you'll hear it a million times from all your married friends and family, but make sure you stop and soak up every moment. I tried to stop and take a deep breath and look around me for all the 'big moments' – getting ready with the girls, seeing my dad for the first time, seeing Joel for the first time, remembering the feelings during the ceremony, seeing everyone's faces smiling back at us... the list goes on. I hope I never forget those moments.
---